Maid Academy
CLASSES SUSPENDED - personal training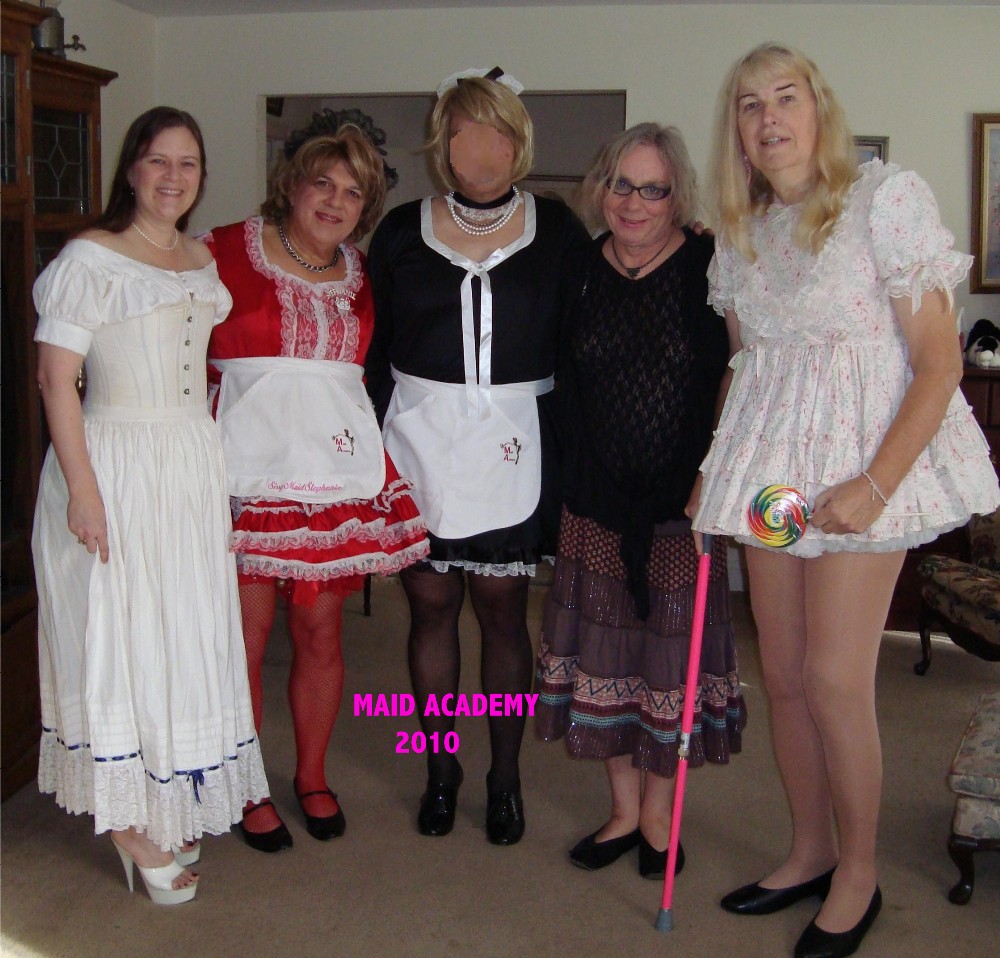 Maid Academy

NO SCHEDULED CLASS - contact sissy stephanie
- - - - - -
For Sissy Maids, other service subs and their Dominants
EVENT SCHEDULE
(tentative)
Friday:

Saturday:

Sunday:

3:00 - Arrival

5:00 - Formal Tea

8:00 - Dinner (subs serve)

9:30 - Service Class: Make-up, nails, hair, deportment, etc.

11:00-? Social Time

7:00 - Subs rise to bring morning beverage to dominants.

8:00 - Breakfast

9:30 - Service Class: Household chores

11:30 - prepare for lunch

Noon - Lunch

1:30 - Service Class: Table Service

4:00 - Prepare for formal tea

5:00 - Formal Tea

8:00 - Dinner (subs serve)

9:30 - Service Class: Personal Service

How to pamper your Mistress

11:00-? Social Time

8:00 - Subs rise to bring morning beverage to dominants.

10:00 - Brunch (Subs Serve)

Noon - Awards and presentations
Topics to be covered:
Personal deportment, hygiene & fashion, Household Chores
Laundry, ironing, care of china, silver
Setting a dinner table, Flower Preparations
Personal Services, massage, hair brushing
Party Services, Planning, During Party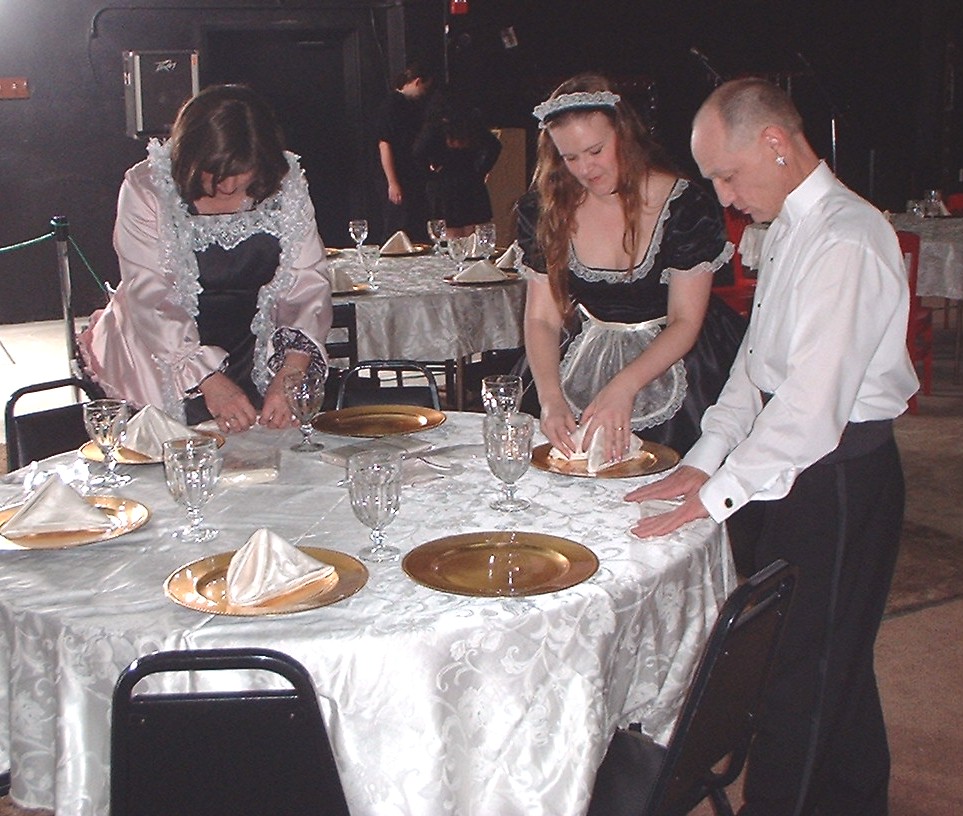 Location of the Academy
We have chosen a beautiful B & B located in the Pocono Mountain. It is a completely private facility on five secluded acres, not visible to any neighbors or "tourists".
Below are some comments from the Inn:
--The Inn has spacious and immaculately clean rooms designed for luxury living and active lifestyles.
--Guests enjoy the advantages of the Pocono area lifestyle at its finest in all seasons of the year. Our sauna and game room are available for use and enjoyed by many.
Our whirlpool will provide you with a soothing massage from head to toe as 18 jets create a swirling stream of delicious pleasure for your aching tired bones.
--We feature a fine selection of many delicious home-made breakfast and brunch dishes, and will cook to your order to provide a truly enjoyable morning repast. If you wish, the champagne breakfast may be served in your room (of course by your Sissy Maid).
-We are only minutes away from the Northeast Extension of the Pennsylvania Turnpike and just off Interstate 80.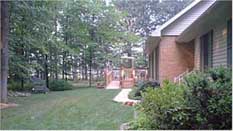 Sissy Stephanie has personally stayed at this Inn and recommends it highly. The owners are "scene" friendly and even have a dungeon!
The fee is approx. $--- for each service sub per person
approx. $--- for each dominant per person
Double Occupancy.
Your fee will include a full dinner each night also in addition to the breakfast mentioned above.
Please note that accommodations are double occupancy, there is only one bed in each room.
There is only room for a total of twelve people, so this will be a small, intimate gathering of people for the Academy!
Payments can be made though

to steph08901@verizon.net
SISSY MAID ACADEMY FACULTY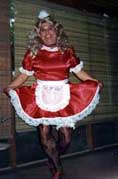 Sissy Maid Stephanie
The organizers of this weekend are experienced people in the scene. Sissy Stephanie was collared to Lady Red for 5 years in the past as her personal Sissy.
LADY ELLEN is the Owner and Operator of Le Femme Finishing School, NJ's only full service male to female transformation and fantasy photo studio. Lady Ellen has been in the scene since her teen years and has been the happy owner of her 24/7 slave and wife, kyla for nearly 3 years. Lady Ellen and kyla enjoy helping newbies explore their femme side as well as their submissive desires. Over the knee spanking and flogging are two of Lady Ellen's favorite treats for good sissies.
SISSY STEPHANIE is a sissy (maid and little girl) who has been in the scene since 1996 at which time she was awarded the "Sissy Maid Award" at the last Dressing for Pleasure weekend. She has coordinated service training at Western Belles Roundup, Nov. 2000 and the Finishing School for Sissies and servants at Leather Retreat 2001. She has recently shot some educational videos for the Kink Academy of Princess Kali in Boston
APPLICATION FOR TRAINING
Sub/Dom Name______________________________________________________
Address or how can we can contact you________________________________________________________
___________________________________________________________
City/Town, State, Zip___________________________
Phone?: (_____ )______________________
Legal Mailing Name__________________________
E-mail:_____________________________
I will arrive Friday - Saturday (circle one)
I would like to room with: ____________________________________*
Any special dietary or medical situations we should know about?
_______________________________________________
_______________________________________________
Note: Please send this application with FULL PAYMENT
Check payable to: "S. West", PO Box 143, Metuchen, NJ 08840-0143
for reservation. sorry-no credit cards!
[Refund Policy: Half refund if cancellation six (6) weeks prior to event]
*If no roommate is indicated, one will be assigned.
"THINGS TO BRING"
LADIES
Appropriate clothing for: daytime, formal tea and dinner, and "play".
SERVICE SUBS
FRENCH MAID OR OTHER APPROPRIATE UNIFORM
Sissy Maids should dress in an appropriate maid uniform at all times. Other service subs should dress as directed by their dominant, or as directed.
It goes without saying for Sissy maids that you will need the lingerie and other things to go with the uniform: stockings, garter belt, panties, bra, shoes, etc., etc.
You will be expected to be in "uniform" for the entire weekend from the time you arrive until the time you leave
If you need assistance in securing the proper uniform, please contact Sissy Stephanie (steph08901@hotmail.com) or you may call: (908)715-7952 - you may ask for Stephanie or leave a message for her.
Of course, everyone needs to remember to bring personal hygiene items also!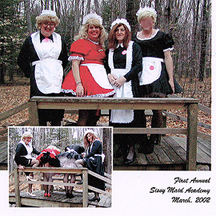 Maid Emily, Sissy Maid Stephanie, Maid Jacqueline, Sissy Maid Michelle
photo by: Joe Kozlowski